Dumpster Rental Arden
Renting a dumpster in Arden may not be as complicated a process as you imagine. In fact, with a single phone call, you can schedule your dumpster delivery and have it delivered to your site, load in your trash and notify us to come get it for proper disposal. If you are a homeowner, business or contractor who is looking for a reliable dumpster rental service in Arden, NC; EZ Rolloff Containers is your best option. Contact us at 828-215-3988 to rent a dumpster in Arden today.
We Take Just about everything
Some examples of the junk we haul away include
Refrigerator Disposal

Garbage Removal

Mattress Disposal

Foreclosure Clean Outs
Construction Waste Removal

Yard Waste Removal

Trash Removal

Appliance Removal
Television Disposal & Recycling

Furniture Removal

E-Waste Disposal

Hot Tub Disposal
Rent a Dumpster in Arden
Most people imagine rental dumpsters to be large containers that only contractors and big companies with huge amounts of waste to dispose of can rent. This is a misconception. EZ Rolloff Containers have varied size dumpsters to handle different amounts of waste generated from different projects. Even a homeowner with a small DIY project can rent a dumpster and with a single phone call; have the rental dumpster delivered to their home. We take pride in making dependable dumpster rental services and clean roll off dumpsters accessible to all customers in Arden and the nearby areas. Which dumpster will be best for your project?
Residential dumpster rentals
You can rent a small roll-off dumpster for any project around your home that will generate a large amount of trash that has to be disposed of at the landfill. Such projects may include; DIY kitchen renovation, an overdue bathroom remodeling, a small garage cleanout, a thorough yard clean up, a shed demolition debris removal; just to name a few.
Our roll off dumpster sizes range from small and compact 12 yard dumpster size, medium 20 yard dumpster size and our large 30 yard dumpster size containers. Whether you are thinking of doing a small DIY project, a medium roofing project, or even a large scale construction or demolition; one of our three dumpster sizes will fit the waste your project will generate. Businesses that need dumpsters for new location construction, renovation of their premises or new construction projects are also catered for.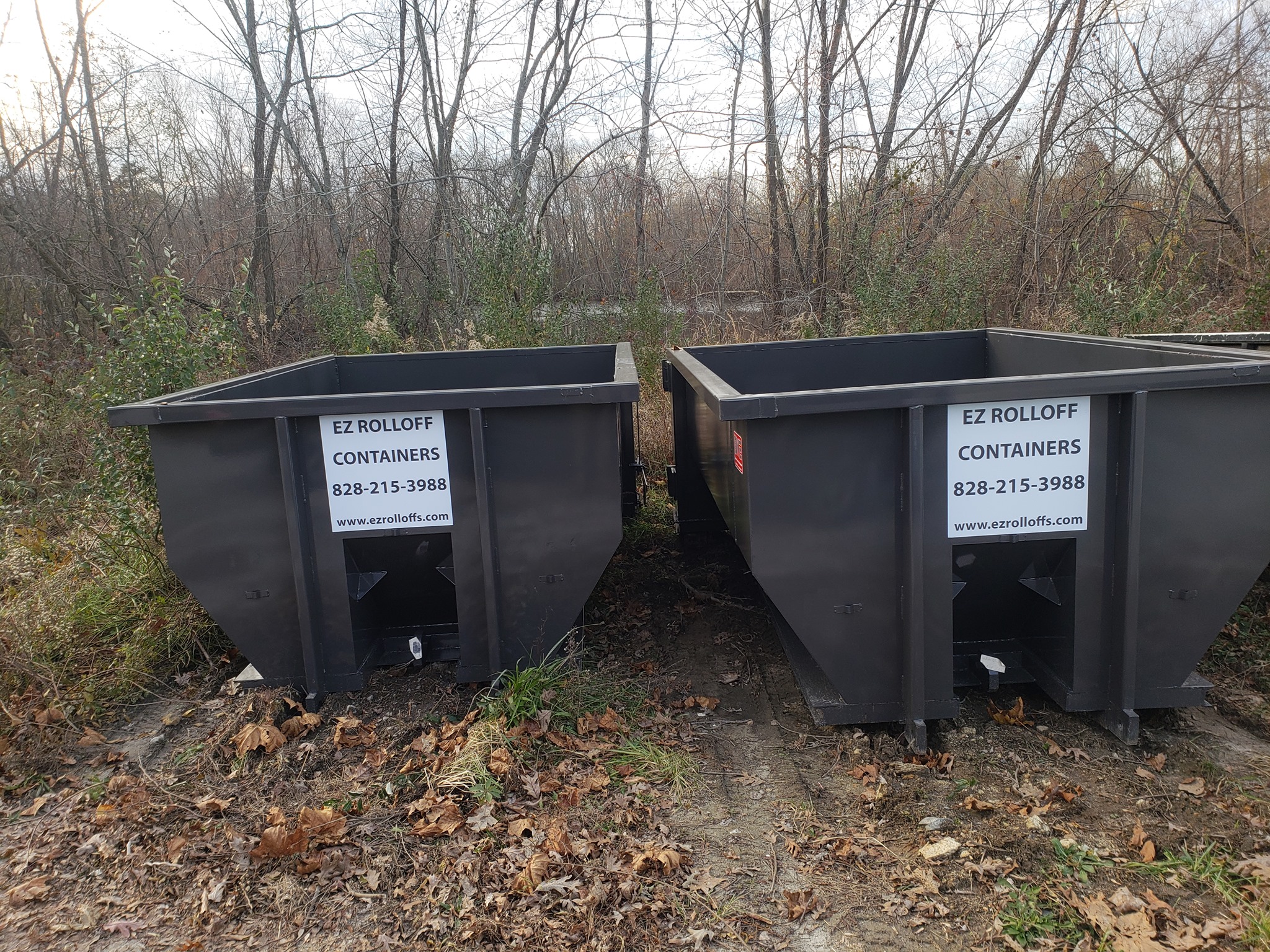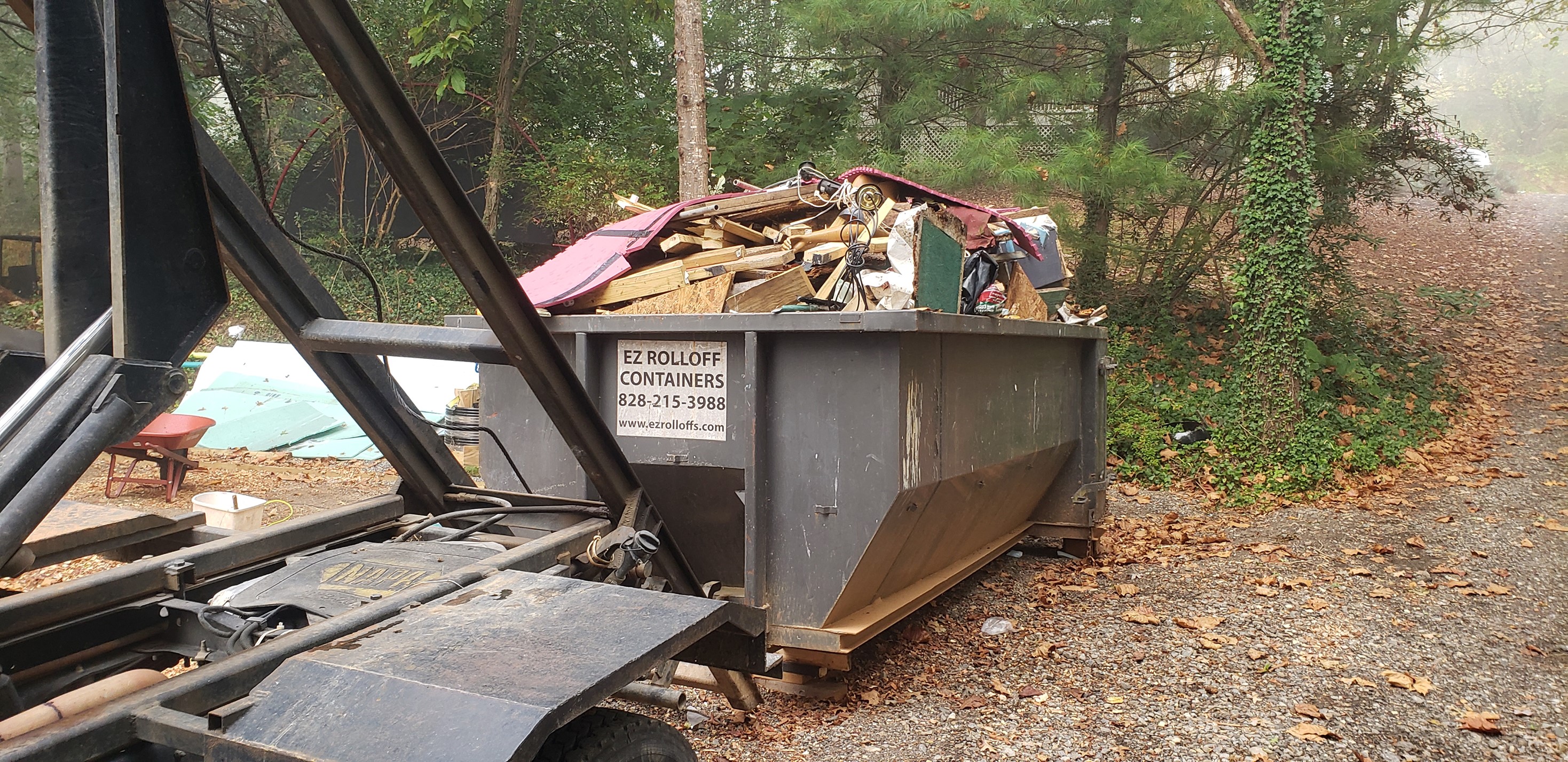 Construction Dumpster Rentals
EZ Rolloff Containers also offers large dumpsters that roofers, general contractors and construction workers often need to dispose of construction or demolition waste and debris. Our rental process is simple and you can actually schedule a large dumpster through a phone call and have it delivered to your construction site on the same or next day; depending on where in Arden you are located. You will only fill up your rental dumpster and notify us to come get it for proper disposal at the landfill.
Arden Dumpster Rental Sizes
How To Choose The Right Size?

Being a first time renter can be stressful because you probably don't really understand the process of renting a dumpster in Arden very well. However if you rent a dumpster with us, you really have no cause for worry. We will give you detailed information about all our dumpster sizes and advise you on the best size dumpster depending on the scale of your project so that you can make the best decision when choosing your rental dumpster.
How To Rent A Dumpster in Arden?
Our dumpster rental process is fairly easy thanks to our friendly and knowledgeable team as well as our flexible rental terms. Simply call us (801) 833-7681 to make an order, tell us about the type and scale of your project, the size rental dumpster you need and the length of time you anticipate it will take to complete your project. Once you book your dumpster we will promptly deliver it to your placement location and come get it for proper disposal once you notify us that your project is complete.

Depending on where in Arden you live; you may be required by city regulations to apply for and obtain a dumpster permit before scheduling a delivery if you intend to place the rental dumpster on a space that the public has a right of way. This includes sidewalks and any other streets accessible to the public. You are usually not required to have a permit to place a dumpster on private property.

Contact us to rent a low-cost dumpster for your next waste disposal project.
Rent a Dumpster in Arden
Contact EZ Rolloff Containers to rent a dumpster in Arden. We have different size roll off rentals that comfortably fit on your driveway or business location. Whether you are throwing out junk or disposing of construction and demolition debris, we have various dumpster options you can choose from at flexible rental terms and affordable pricing. We also offer Roll Off Dumpsters for rent in Hendersonville.